My VIP Card is expiring soon. Any renewal fee required?
Membership Fee
1-Year membership fee:

• $6 for NEW membership (no min. purchase required).

• $6 for RENEWAL of membership (for purchases amounting to less than S$150).

•
$5* for RENEWAL of membership (for purchases amounting to S$150 or more on accumulated receipts.
*Not valid for Online VIP Card Renewal
For renewal of VIP membership card online:
Step 2: Check on the new expiry date of your VIP membership card shown and ensure that the email is correct so that you will be able to receive the e-receipt after the request has been submitted.
Step 3: Make payment with your credit/debit card for the renewal fee of $6.
Step 4: You will receive a renewal confirmation email and e-receipt for your payment.
Step 5: Once the renewal has been confirmed, the loyalty points validity will be extended. (Do note that it only applies to membership renewal within 3 months after it has expired. Otherwise, the loyalty points will be forfeited).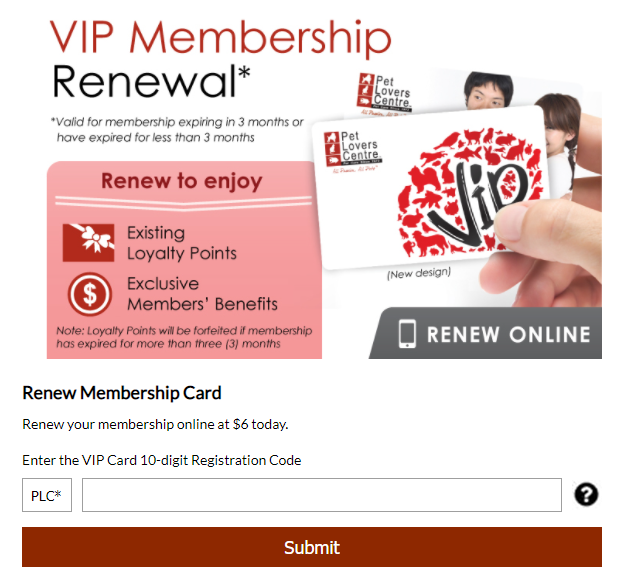 Alternatively, you may visit any of our Pet Lovers Centre store for the renewal to be done.
Find our Stores location here.
Step 1: After you have purchased a membership card in the store for the renewal
Step 2: Activate your VIP card through our website
Step 3: You can follow the onscreen instructions: enter the VIP membership card, 10 digit registration code and your mobile number.
Step 4: A One-Time Pin (OTP) will be sent to your mobile phone via SMS.
Step 5: Complete the VIP membership card activation by filling in your personal particulars and click "submit".